News
Chronicle of the jubilee events of Wassily Leontief Centenary
News of International Input-Output Association (IIOA)
News of the Pan Pacific Association of Input-Output Studies (PAPAIOS)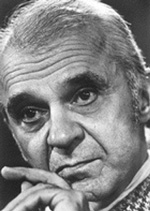 Programme of the jubilee events for the great scientist centenary
WORLD OWNED
In view of the jubilee there are tendency to attach Wassily Leontief almost to the History of Russian Economics. It is unlikely worthy of it: Wassily Leontief is American economist and he is going down to the History of World Economics as the same one. We ought to remember that the Nobel Prize in economics was presented to citizen of America, not USSR in 1973. However Leontief's scientific heritage as any another great scientist's heritage has no citizenship and it belongs to world. Detailed...
Welcome to Wassily Leontief's web-site!

Wassily Leontief's web-site is the first attempt to implement a large Internet project on creation Wassily Leontief's virtual museum and electronic collection of the works of Nobel Prize Winner in Economics, the originator of the ramified theory of input–output analysis, an outstanding economist-experimentalist, and the founding father of the Leontief Centre.

Today the portal presents Wassily W. Leontief's biography, scientific activities and heritage, based on the information and materials of Leontief Centre, historical archives of S.A. Kalyadina, materials of D.V. Mityurin, deputy editor of "Confidential materials of XX century" newspaper, documentary film about Wassily Leontief by the State Television and Radio Channel Culture (author A. Bederov, producer A. Kapkov), and also the Internet resources devoted to W. Leontief.

In 2005 Leontief Centre propounded the series of jubilee events devoted to Wassily Leontief Centenary organization and implementation. This idea meet the support not only from lead Russian organizations and scientists which related to several Wassily Leontief's life periods, but also from foreign partners (Institute for Economic Research of Hitotsubasi University, International Input-Output Association etc.)

New section "Centenary" was opened up at the web-site in February 2005 when preparation activities to celebration of the Wassily Leontief centenary began. This section presented Organizing Committee members and the main actions of the Programme of Wassily Leontief Centenary celebration.

We thank Organizing Committee members and our partners in web-site creation and shall be grateful to any kind of cooperation.
Our partners in web-site creation: